About us
Thai cuisine is one of the most favourite foods because of its unique blend of flavours and taste. Each Thai dish is made with the best herbs and spices. Our food choices include dishes such as Vegetable Spring Rolls, Prawn Spring Rolls, Vegetable Curry Puffs, Thai Golden Bags, Chicken Salad, Thai Beef Salad, Tamarind Prawns, Green Curry Chicken, Massaman Beef Curry, Yellow Curry Chicken, Oyster Sauce Beef, Pla Chu Chee, Ginger Fish, Pad Kee Maw Beef, Pad Satay Noodles Chicken, Thai Friend Rice Chicken and more. You can visit us at 931 Burke Road, Camberwell VIC. We offer delivery, pickup and online ordering services.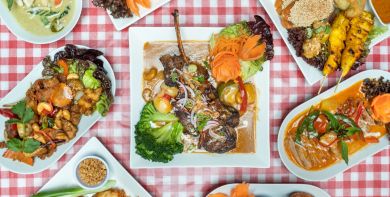 Reviews
Joan
"All our selections were delicious. We ordered medium hotness for all but they were all VERY mild. The flavour however was very good but will be tempted to order HOT next time."
12/01/2020
Michael
"Quality food with the curries spiced just right."
3/01/2020